We're big fans of the Mercedes S-class. It's supremely comfortable, filled with tech and throws more luxury at you than a few nights at the Burj Al Arab. But what about the hot AMG versions? There's two of them to choose from: the frankly ridiculous AMG S63 we're testing here and the absolute definition of overkill, the V12-powered S65.
We thought we'd restrain ourselves and have a drive in the commoner's AMG – the S63. Read on for the full CAR magazine review.
Tell me the S63 basics
Mercedes updated the S-class in 2017 to include a few choice upgrades. Along with updated versions of the S350d and mild hybrid S500 petrol, Mercedes also tweaked some of the driving assistance tech and incorporated a detailed concierge service that allows you to talk to a human being to book a table at a restaurant or night in a hotel, or find you parking nearby.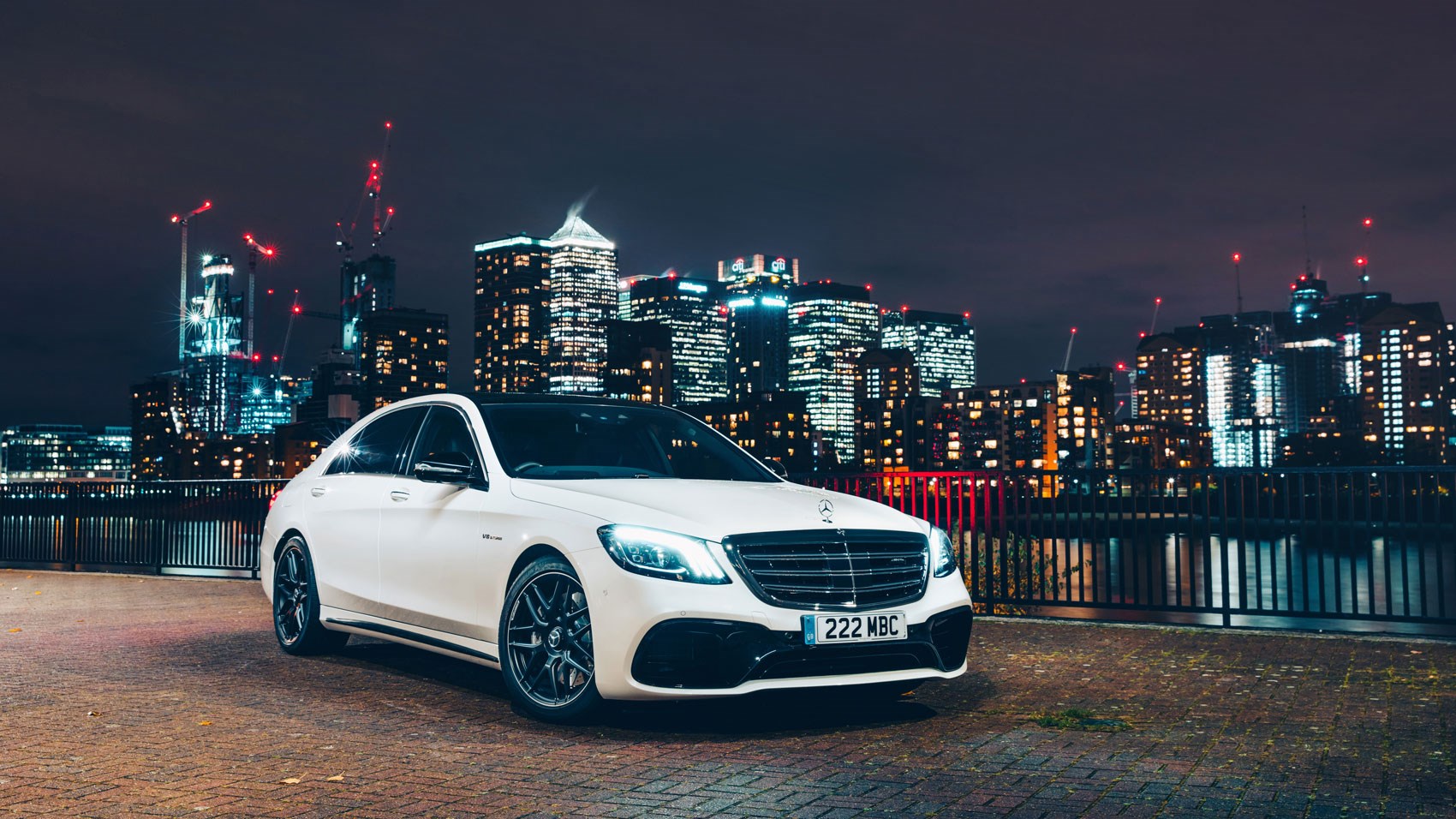 The AMG S63 uses Mercedes' perennial 4.0-litre biturbo V8, which in this tune pumps out 604bhp and a mighty 664lb ft of torque. That power is sent through a nine-speed 'Speedshift' automatic to all four wheels via Merc's 4Matic system.
Opt for the long-wheelbase version we're testing here and a 0-62mph sprint can be over with in just 4.3 seconds, and, if you opt for the AMG Drivers Package, power on up to 186mph.
Is it still luxurious, though?
Of course – the S63 is dolled up in all sorts of premium leather plus two 12.3-inch colour displays, massage, heated and cooled front seats, wireless phone charging and more safety assistance tech than you really know what to do with.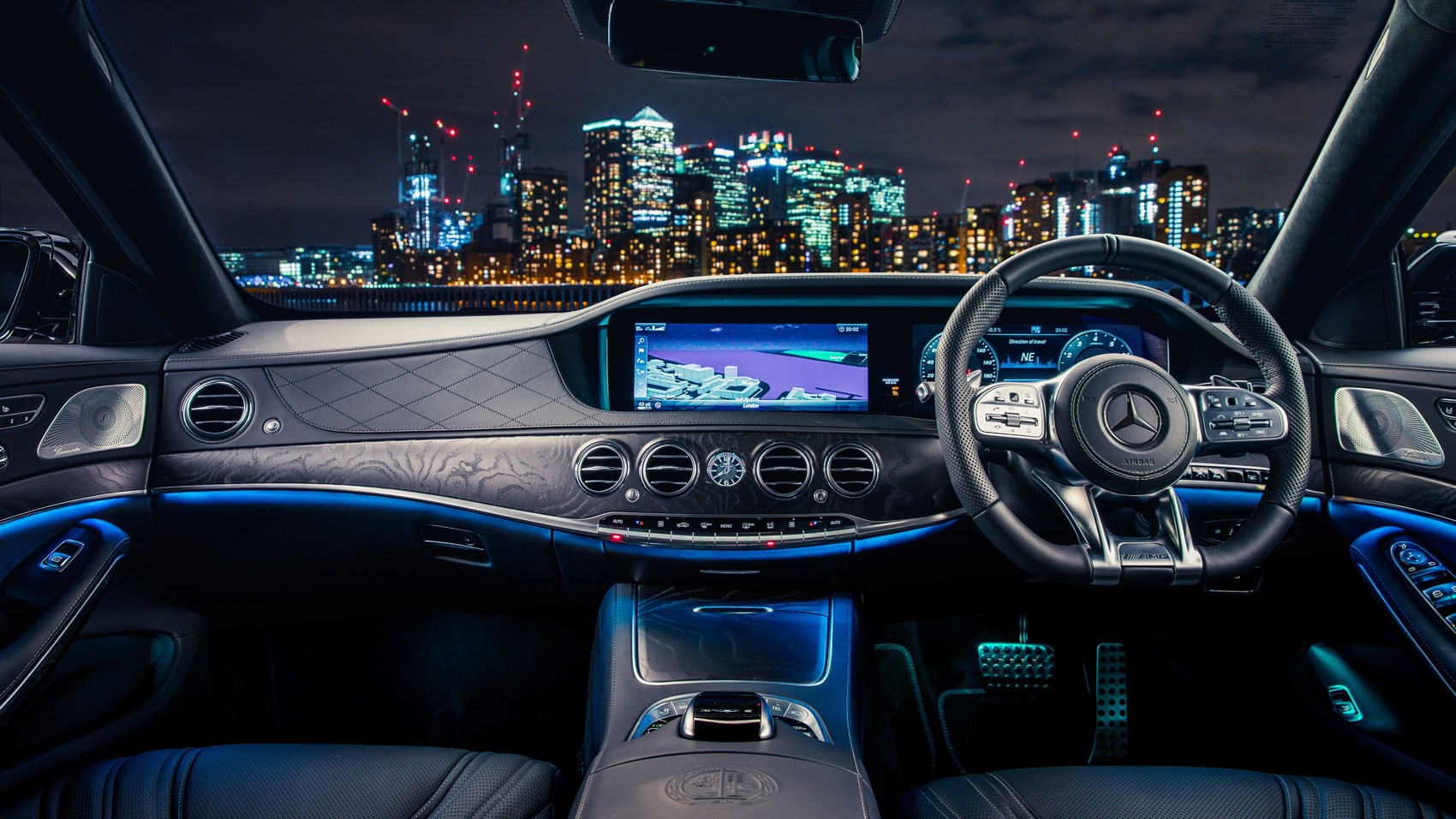 The AMG-specific versions have their own body kit, complete with a gurning, black-trimmed front end for better cooling for that 'hot vee' and quad tailpipes that allow said engine to howl unrestricted. AMG-specific 'Airmatic' suspension, sports steering and a perforated leather AMG helm are all standard, too.
Our car was fitted with a suite of options similar to our experience with the S350d, so was kitted out with two (rather than three) rear seats complete with their own infotainment screens, massage and reclining facilities and some airline style pop-out tables.
The S63 isn't slow, then
Absolutely not – it may be quite a weighty luxo-barge but it certainly shifts. In fact, the S63 gathers pace so quickly it feels like it manages to completely ignore its more-than-two-tonne kerb weight.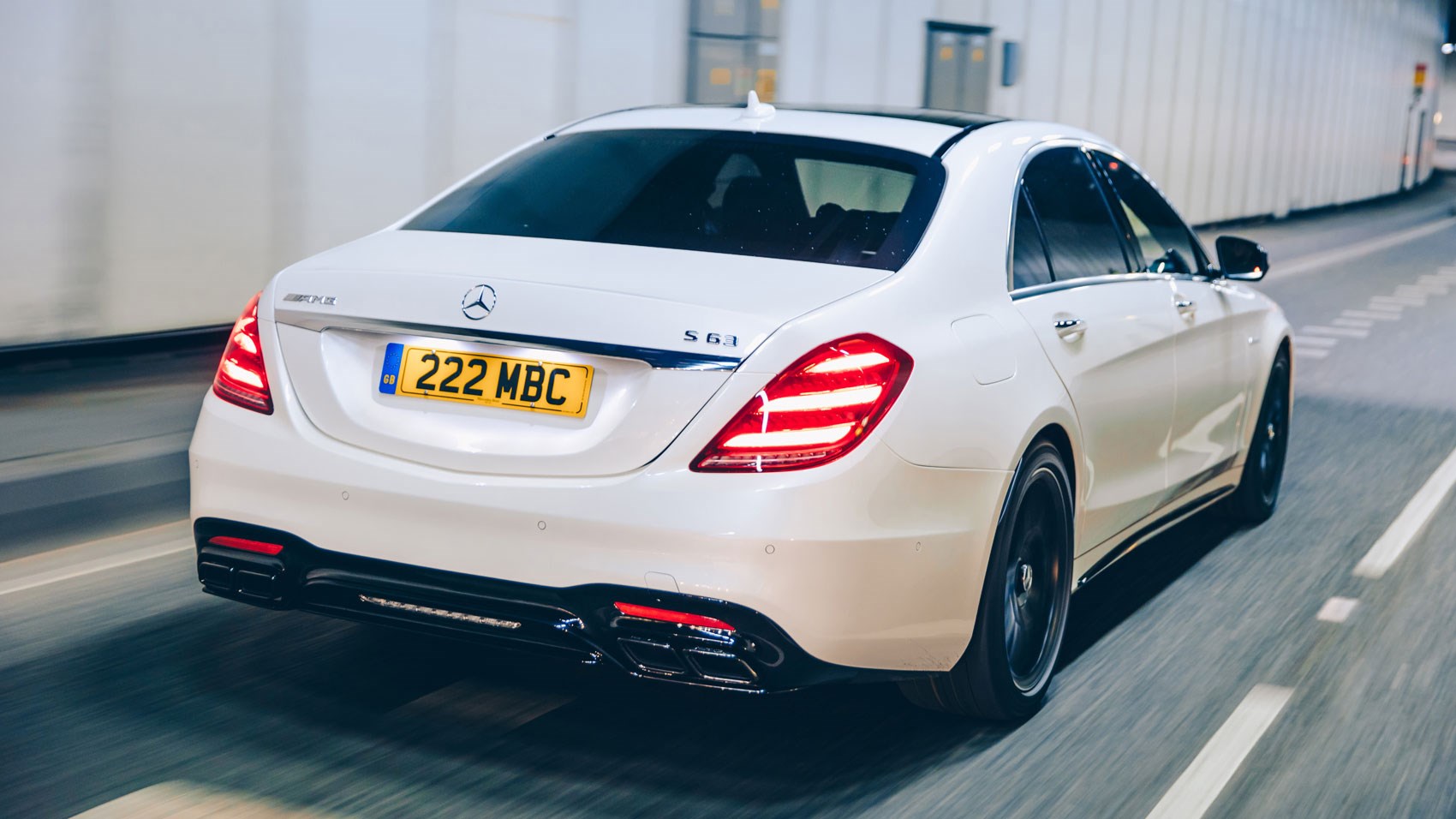 Point it in a straight line and demand the engine's entire efforts, and the whole car tilts backwards and snarls up to the near-7000rpm redline – scrabbling all four wheels well into fourth gear.
The V8 is more muffled here than in a C63, for example, mostly down to you being considerably further way and more insulated by the noise in the S. It's still a cracking engine, though, so it's not surprising to know that you can find it in not only a large portion of AMG cars but the Aston DB11 V8 and all-new Vantage.
How does it handle?
Leave everything in subdued 'Comfort' mode and the nine-speed AMG-tuned box still changes gears without fuss, the ride is still sublime and the steering still a bit too light for some tastes. Chuck the big S around a corner in its softest setting and body roll only starts to become particularly apparent if you're being a little silly with your inputs.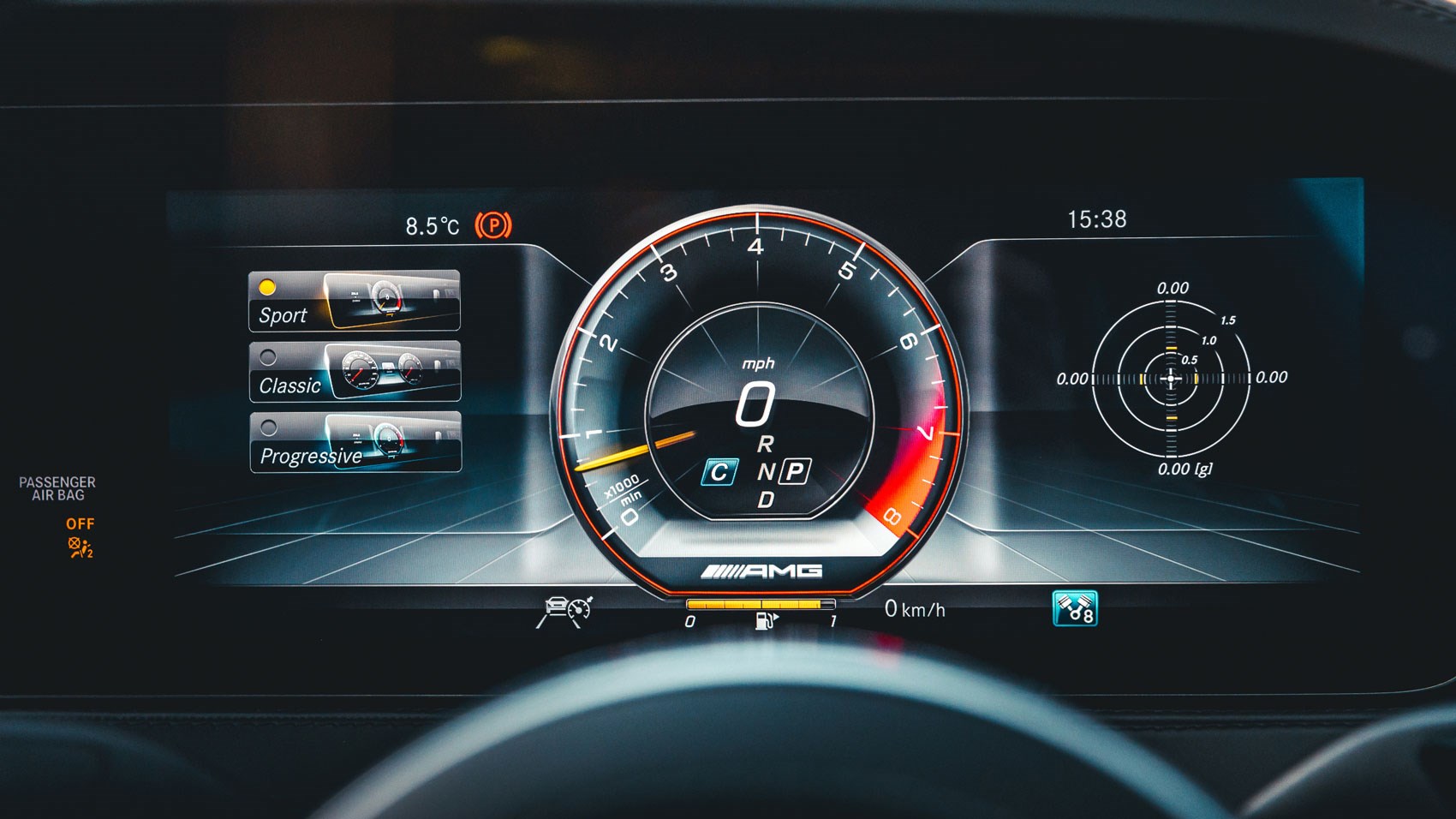 Dial it up to Sport or Sport+ and the ride naturally sharpens up, pulverising bumps with a few jolts reaching the cabin rather than dancing over them. The steering rack does weight up but still not quite enough. The Sport suspension setting should only be used if you're not chauffeuring someone around and aiming to get home in a hurry. You can also set the gearbox to manual mode, but with nine ratios to shift between and a heady amount of power, it feels a little cumbersome to be almost constantly flicking the clicky paddles.
Our optimum drive mode settings, configured by the Individual mode, are engine in Race, gearbox in D, ride in Comfort, exhaust in Sport+ for maximum burble.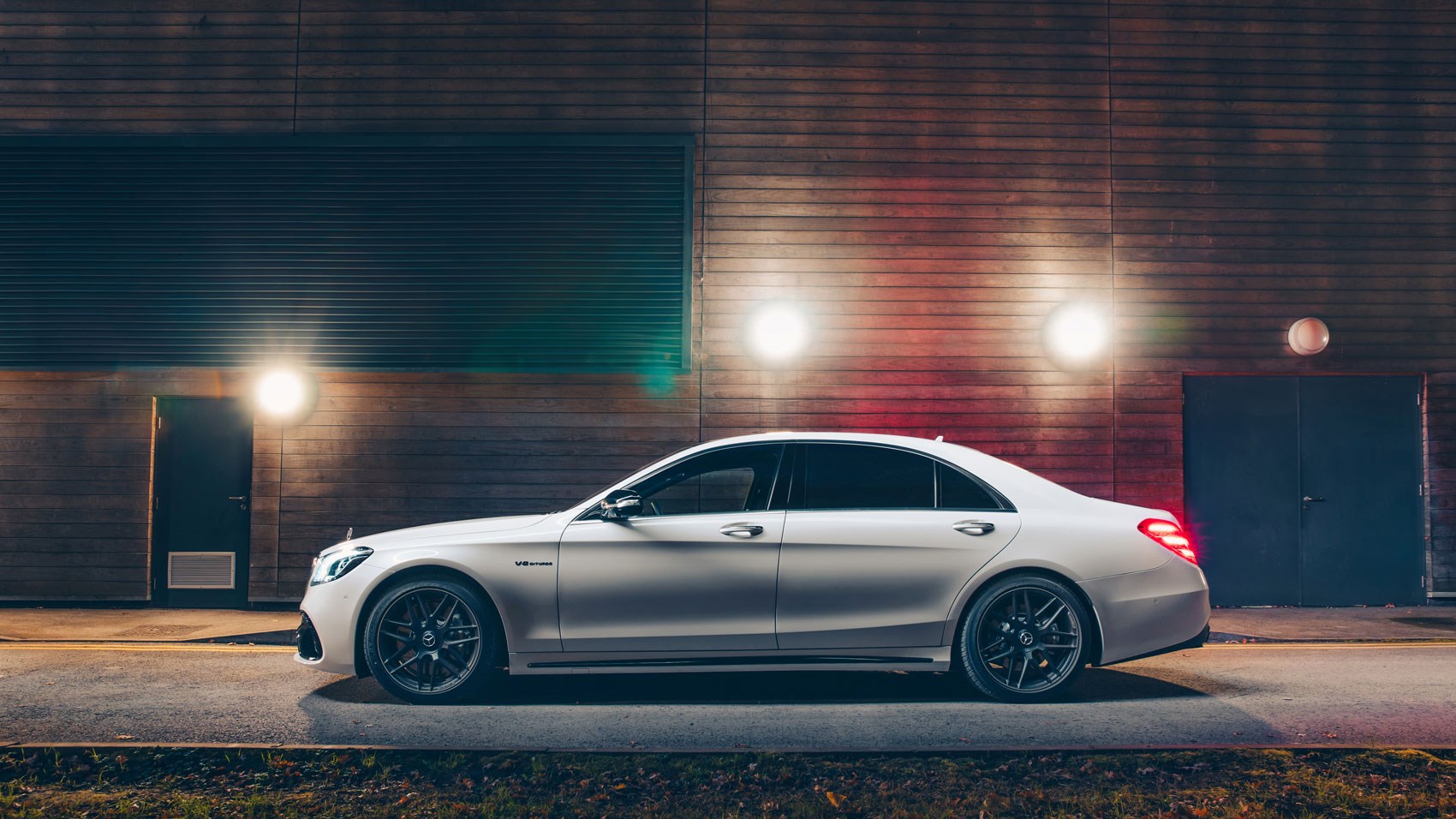 Mercedes-AMG S63 L: verdict
It's quite a beast, the S63, but one that's a tad excessive. It's stupid quick, still ultra-luxurious and still a feat to behold if you're lucky enough to be a passenger. Sounds epic, too.
But we can't help but shake the whole 'show-off' vibe it brings with it. The AMG body kit, particularly with the pearl white paint you see pictured, is a bit much.
It's a lot of fun, but if you're looking to buy an S-Class, stick with an S350d and waft up to your round the world holiday with the money you've saved.